Commercial aluminium doors are the best doors for any building that is not a dwelling.  At Pioneer Trading we supply fabricated commercial doors in the Smart Systems Shopline range.  Shopline commercial doors are tried and tested, widely used throughout the commercial, hospitality, retail and education sectors. At Pioneer we have a wealth of experience in supplying doors and windows for commercial use; here We give some tips and advice on buying commercial aluminium doors and what you should consider.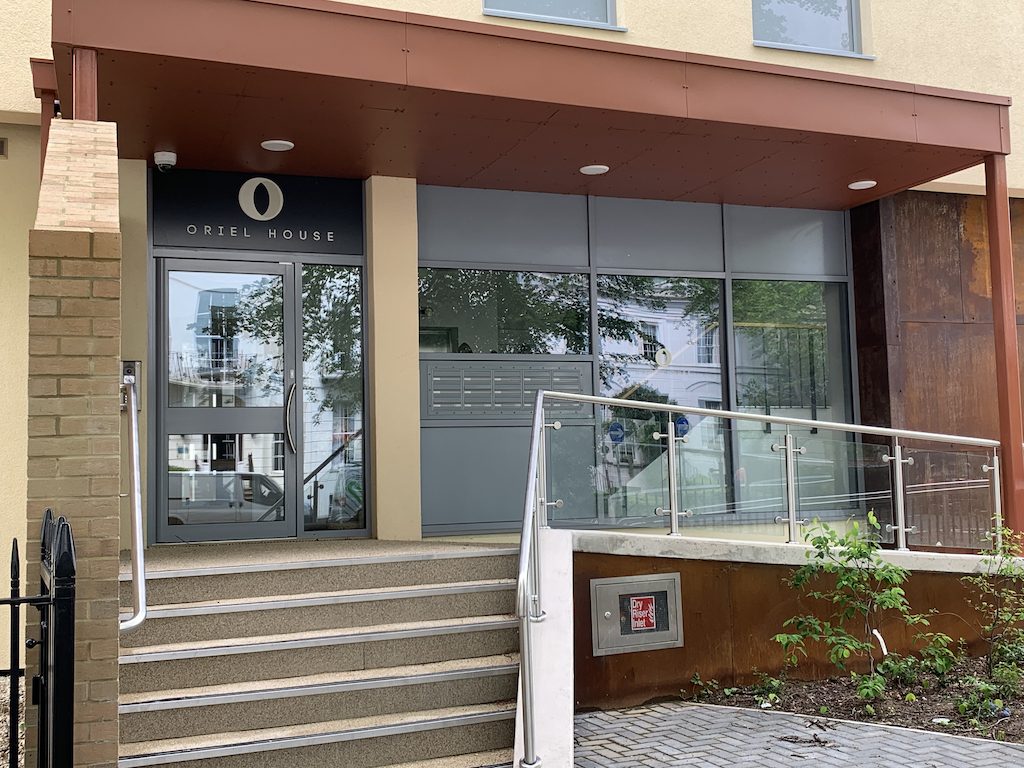 Information about commercial aluminium doors.
First of all, most installers are unaware of where to use a commercial door, and why they make the most suitable types of entrance and exit door.  For door installers used to supplying and fitting residential doors, building use frequently determines when you must use a residential quality door and when a commercial door is best.
Commercial doors are the preferred choice in any building that is not a dwelling.
An aluminium commercial door is ideal when the entrance has daily and frequent traffic.
Aluminium commercial doors allow better functionality than PVCu doors such as fire exits, controlled access, and better traffic flow.
PVCu doors, while better than the first generation of doors come with certain limitations.  They do not come with a design built for frequent use. The hinges and door hardware are also not designed for everyday use and many operations during the day. As well as this, PVCu doors come at smaller sizes than aluminium doors and therefore usually unsuitable for the wheelchair, and easy access sizes commercial or public buildings demand.
Types of Commercial Doors.
If you need a reliable, quality-made door for your project, we offer a selection of commercial doors. These not only meet every type of building requirement for entrance doors, but they also work as rear or side doors. Our doors even come as fire-exit doors. There are three types of commercial doors available from Pioneer Trading.
Centre hung doors.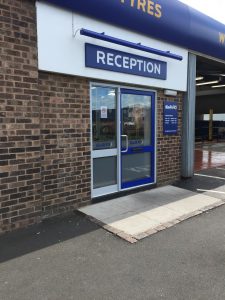 The centre hung door comes as standard with a concealed overhead closer and low threshold pivot. These doors pivot when opening, therefore come with no hinges.  The door fixes to the door closer in the frame head and rests on the threshold pivot.
The advantage of the centre hung door is the ability to open in as well as out.  Therefore, these doors come well suited for busy retail shops such as a local newsagent, general store and general entrance where you don't want the user to wonder if the door needs pushing or pulling. The simple addition of a door-stop block on either side of the door converts the door to open in or open out too.
Anti-finger trap doors.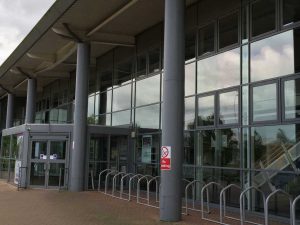 An anti-finger trap door works in the same way as a centre hung door with the same features. However, at the hinge side of the door leaf, there is a round door stile, closing the gap between the door edge and the frame.
Anti-finger trap doors come as either single or double doors. Importantly, anti-finger trap doors are widely used in schools, hospitals and other buildings with different types of users. It is not a legal requirement to fit these types of doors. However, professional installers tend to use these doors as standard, for their valuable safety feature in high traffic buildings.
Rebated commercial doors.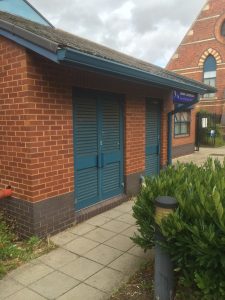 For plant rooms, low-use doors and other areas, rebated doors are suitable. These types of doors use a familiar door hinge, and an overhead face fixed door closer.
Commercial rebated doors come as open in or open out versions.  There are even options for panels or louvres when used in bin stores, cycle stores or plant rooms.
Hardware Options for Aluminium Commercial Doors.
The benefit of commercial doors for your projects as a builder, property developer or door installer is the vast options for how the doors operate.
Main entrance doors such as doors to blocks of apartments come with the necessary access control giving security to residence and protection from anyone entering the building.  There is a choice of electric strikes, magnetic locks, fob and card readers and all sorts of other options for main entrance doors.
For standard locks, our Smart Systems shopline doors come with single point high security hook locks with flush bolts to the slave leaf of double doors.  Commercial doors do not use multi-point locks and lever handles, using standard pull handles instead.
Fire exit doors come with all manner of panic bars and push to exit handles depending on whether the door is solely a fire exit door or an entrance door too.  Remember commercial aluminium doors as fire exit doors are not fire-resistant doors.  Aluminium has no fire rating, and the purpose of these doors is to provide emergency or panic exit, not fire-protection.  The panic bars we provide with our fire-exit doors come designed so anyone can use the doors in an emergency, whether familiar with the door or not.
Finally, our entire range of commercial doors comes suitable for disabled access.  Remember, Part M of the Building Regulations, BS8300 and the Equality Act must be met for doors to new buildings. Only commercial doors meet these requirements.
Get in touch today for a commercial door quote.
Contact us to get a fast quotation on our range of coloured aluminium commercial doors, available at quick lead times from Pioneer Trading. We offer a full range of RAL colours as well as matching shopfronts and screens. We also provide a complete commercial contracting service for developers, builders and the construction sector.