Pioneer Trading Company manufacture Windows, Doors and Conservatories to the trade in our two sites in Chelmsford Essex.
Pioneer Trading started over 20 years ago and continue to be a substantial fabricator of both aluminium and PVCu windows and doors. Our staff have extensive experience and are highly trained with constant reviews of training requirements, our main trading area covers the South East of England.
We pride ourselves and providing "defect free products" to our customers on time and within budget. We also strive to work in ensuring our customers get on-time products helping them complete their installations quicker. Part of this is our ability to stock both coloured PVCu and aluminium profiles providing better lead times. We also use the latest production methods, machinery and processes, giving you quality-made windows from the leading systems houses.
Our mission statement concentrates on the three key components that we consider essential to our customers, our staff and the environment.
Customers
We value our customers as the foundation of our business. Our relationships with customers and suppliers are based on principles of respect and mutual benefit. We aim to develop profitable and lasting relationships. We want to build on what we do well and to innovate to meet changing customer needs.
Environment
We recognise that our actions must acknowledge our responsibilities for the wellbeing and stability of the environment. With this in mind we will aim to support Green issues with the promotion of Energy efficient products, recycle as much as possible and reduce waste.
Staff
We respect the experience and skills of our staff and value the contribution that every person makes to the business team. We recognise that pride and enjoyment in the job come from commitment, leadership by example and accomplishment. Our goal is to work together to reward, train and develop our staff in ways that acknowledge performance and individual abilities.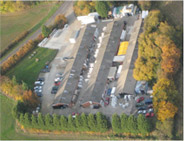 1–3 Red Barns, Warners Farm
Howe Street, Great Waltham
Chelmsford Essex CM3 1BN
sales@pioneer-trading-company.co.uk
01245 362236
---
Get on the phone to us now for a competitive quote - just call 01245 362236 or if you prefer you can use our Web Enquiry Form and we will answer any enquiries that you may have.