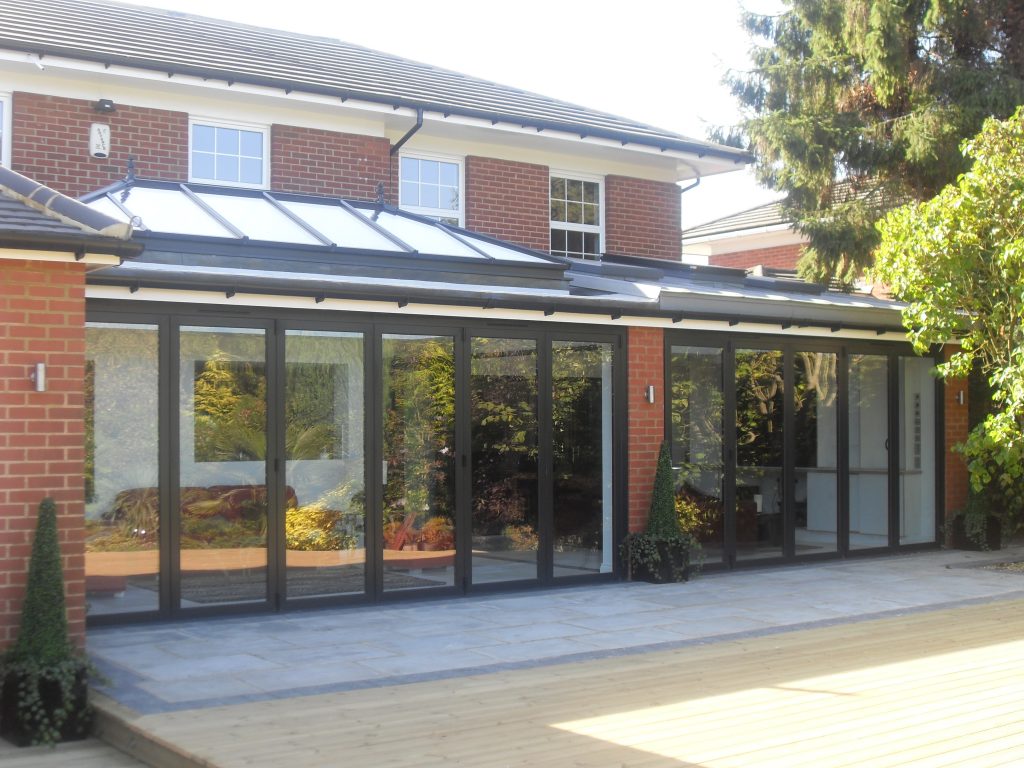 Trade supply aluminium bifold doors in aluminium and PVCu let you benefit from the lucrative bifolding door market. We offer a range of bifolding doors with all the style, functionality and reliability you want. Above all our doors come made for fast installation in a choice of opening configurations, options and colours.
Give your customers that sought-after bifold door in the latest generation slim- line aluminium. Your clients benefit with slim and strong aluminium offering more reliability than PVCu or timber bifolds and virtually maintenance free.
Trade, Supply Only Aluminium and PVCu Bifold Doors.
We make selling and fitting bifolding doors easy, with fabricated door leaves and easy to assemble frames. With a fast quoting and ordering system, you get the best folding sliding doors at competitive prices, reliable deliveries and great lead times.
We offer a range of standard colours from stock or special order colours at slightly longer lead times. All ancillary profiles such as beads, cills, frame exten- sions are cut to size and provide you with full installation instructions and fitting support when needed. All our doors are protected for transportation too.
Trade supply bifolding doors come as standard with finger-safe door gaskets, multi-point locking and a choice of door handles. We even supply these with the latest integral glass blinds.
Smart Systems Visofold 1000 bifolding doors.
The best selling bifolding door from the leading aluminium systems company. Easy to fit with chamfered or flat-faced sashes, slim sight lines and even a deep bottom rail option. Choose from any standard RAL colour as well as woodgrain foils, different colours inside and out as well as matching single and double door sets. Suitable for all your residential projects as well as commercial work such as cafés, bars or restaurants.
Our thermally insulated Visofold 1000 bifolding doors come with 132mm door mullions, and up to 1200mm wide and 2500mm high panel sizes. You also get the option of double or triple glazing and a low threshold option. With a range of standard colours in stock, we also provide our trade aluminium bifold doors on fast lead times too.
Pvcu Bifolding doors.
High quality supply only PVCu bifolding doors for an affordable sliding folding door at great prices. Comes with a reliable smooth glide action, high security and a big range of foiled or plain colours. They also look great in many woodgrain or foiled finishes, working alongside our range of modern or timber-replacement PVCu windows too.
Timber bifolding doors
Engineered timber bifolding doors with a crafted construction in warm-to-the touch natural materials. Available factory painted or stained with durable finishes and a long service life.
Choose from timber bifolding doors from two to eight panels, opening in or out and with a choice of door furniture, Georgian or Astragal bars and the latest security locking systems. Ideal for those prestige projects needing high quality wood doors with a sliding folding action.
Get your trade bifolding door prices today.
Our doors are ideal for local builders, installers and property professionals, available in at custom sizes and made to order. And thanks to one of the most flexible systems on the market, they meet any of your customer requirements and specifications. Our knowledgable team is also on hand to answer all your questions and help meet your project specifications.
Best of all you work with a knowledgable bifolding door manufacturer always getting high-quality doors that are reliable, trusted and give you better margins and sales. Get in touch today for a quotation or send us your dimensions and details.