Window & Door Supplier Chelmsford
Pioneer Trading stands as a trusted and reputable manufacturer and supplier of windows and doors in Chelmsford, Essex. With a legacy spanning over two decades, we have solidified our position as a significant fabricator of both aluminum and uPVC windows and doors. Our dedicated team boasts extensive experience, and they undergo continuous training with regular reviews to ensure they stay at the forefront of industry expertise.
Our commitment lies in delivering products that are not only free from defects but also arrive promptly and within budget, enabling our customers to complete their installations efficiently. We place utmost emphasis on providing high-quality, on-time solutions that streamline their projects, enhancing overall satisfaction and success..
We maintain a comprehensive inventory of both colored PVCu and aluminum profiles, ensuring quicker lead times for our customers. Our dedication to employing cutting-edge production methods, state-of-the-art machinery, and advanced processes guarantees that you receive top-quality windows sourced from industry-leading systems houses.
Start today with our simple Contact Form or call our friendly team on 01245 362236
---
Our Mission Statement:
Our mission statement centers around three vital pillars that we deem critical to our trade customers, our dedicated staff, and the environment: Energy-efficient windows and doors.
Trade Suppliers Chelmsford & Essex
We value our customers as the foundation of our business. Our relationships with customers and suppliers are based on principles of respect and mutual benefit. We aim to develop profitable and lasting relationships. We want to build on what we do well and to innovate to meet changing customer needs.
Energy Efficient Windows & Doors
We are deeply committed to acknowledging our responsibility for environmental well-being and stability. In line with this commitment, we strive to champion green initiatives by promoting energy-efficient products, embracing robust recycling practices, and diligently working towards waste reduction.
---
Supplier of Deceuninck UPVC Double Glazed Windows Chelmsford
Deceuninck windows are the preferred choice for our trade installers due to their exceptional design flexibility, seamlessly suiting both contemporary and period properties. These windows undergo stringent quality tests, ensuring long-lasting beauty and reliability with minimal maintenance. Moreover, their recyclability aligns with our commitment to sustainability, offering eco-friendly solutions.
Our decision to stock Deceuninck windows reflects our dedication to delivering top-quality, visually appealing, and environmentally conscious options for our trade partners and their clients.
Supplier of DoorCo & Door-Stop Composite Doors Chelmsford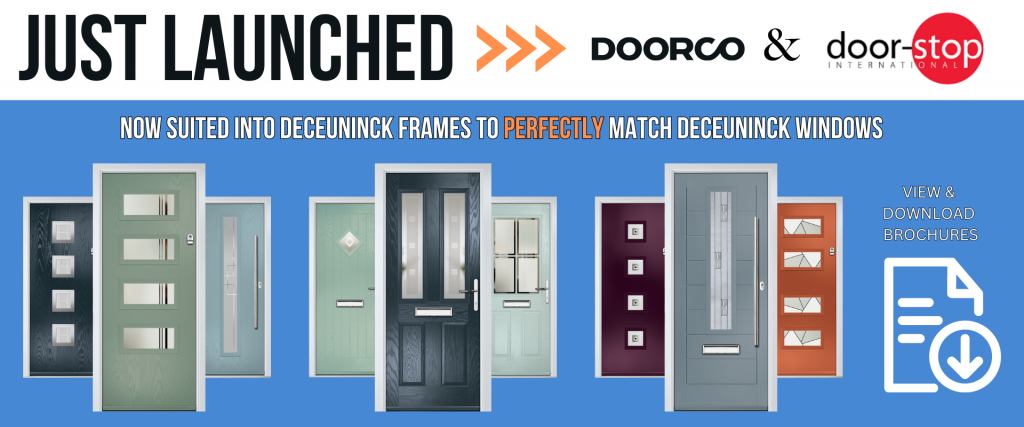 A new launch with Door-Stop allows us to suit Deceuninck frames to PERFECTLY MATCH Deceuninck Windows.
You can view and download DoorCo & Door-Stop Brochures to learn why they are one of the market leaders for Composite Doors in the UK
Additionally, register your details below and a member of our team will be in contact.