Connies back in the mix?
Having found a nice little manufacturer of lantern roofs that is high on skills and low on self-promotion I am having one of my insightful twitches that have served me reasonably well in the past. There seems to be something of a resurgence in connies and of course I want to stay ahead of the game on price, margin and desirability and offering lanterns, perhaps atop a nice Orangery, might do the trick. And as my newfound lantern craftsmen have not spent a Kings Ransom on promotion then I might expect to have a large area to myself and thus avoid a price war.
Confidence remains high amongst homeowners though in the debt-laden, over-mortgaged South East having a few spare spondoolicks left over for such nicety as a new conservatory becomes rarer the nearer the metropolis one gets. In the outer reaches of the Home Counties and those further out from The Smoke there is more money but then too, wages are lower.
Nonetheless I do detect a willingness to improve rather than move; the desire to tart up our castles remains ingrained in us all, fortunately. I shall be doing my bit to provide my loyal and steadfast installer customers with something that they can sway their punters with, big on style and value and low on direct like-for-like competition.
A Nice FIT…
And maybe, with The FIT Show coming up in just a few days time, I can find something there with which to bolster my coffers. My good friend Paul Godwin badgers me to offer the oxygen of (free) publicity to the event, him being something to do with it and, whilst I offer token resistance citing infringements of my editorial integrity, frankly I have been bought with the promise of a VIP ticket and parking near to the door.
But then again I can't really avoid reference to this event which has burgeoned massively in the three (is that it, just three?!) years since the first FIT Show opened its embrace to us.
The name jelled with me at the time as I was deep in the throes of a mid-life crisis that compelled me to chase around muddy fields and swamps which nonetheless resulted in my becoming as fit as I had ever been in my 50 year old existence. And odd as the chosen name was it has coalesced into something for which the meaning has become irrelevant. In other words, FIT has become part of the window, door and conservatory industry vocabulary, virtually overnight.
I will be there as a visitor and as such I shall enjoy the adoration and sincere (I am confident) cries of joy whenever I step along an aisle. For those exhibitors hanging upon my very being in the Telford halls, there are few things that I will be looking for though mostly, I want to be inspired by the things I see by products and people and services that leap out at me, give me the buzz of intuitively knowing that something is right, that my customers and their customers will also feel the same way when they see it. My experience is that the more you have to explain something, the less successful it will be. Keep It Simple Stupid….
I believe that after a couple of years since the last FIT Show most companies there will have something new for us so I expect an avalanche of new stuff. OK, the reality is that advances in such fundamental and traditional building components will reveal themselves in increments rather than massive leaps although there are those at FIT making claims of 'game changing' revelations.
Profile 22, for example, are leaching info out to the industry that promises such a shift and, whatever the reality of the new products, rumours are that the company has spent a shed-load of cash in bringing P22's products up to date. At least two other companies are also launching new window systems, one of which is Residence 9, for which I am already a supplier. I know what their new offer is and I will of course consider that carefully.
The other system is Lumi, produced by those nice chaps from across the (Irish) sea Apeer, for which I am already a customer of their (excellent) composite doors. I have heard much about Apeer's 'seamless' windows and doors and can't wait to see them in the flesh, as it were, FIT being the first time the trade will be able to collectively consider the product. They won the 'Best New Product' category at last year's G Awards, an accolade that seems to be well-deserved and I look forward to climbing all over their stand to see what the fuss is all about.
Ally…where is all the ally? I've scanned through the FIT website and Origin and Ikon are the only dedicated aluminium systems companies and window makers there although there are others showing ally products on a smaller scale. I cannot be the only fabricator and retail installer that has customers beating my door down for the stuff, whether it be for bi-folds or full window systems. Where are the rest of you? Why are you not there in the sort of force that (once again) the PVC-U systems houses muster? Like it or not this is where the home improvement industry goes these days and when we are out buying we want to see it all in one place. The event has earned its credentials so I hope ally is there in force the next time out.
The Runners and the Riders…
…will of course all be there, by which I mean those resolute men and women that stick their necks out to one degree or another to raise money for good causes. This year I will be taking part in the second, invitation-only Madi Rally which, whilst perhaps characterised as a bunch of Hooray Justins flashing their wads, nonetheless has raised a huge amount of cash for the Anthony Nolan Trust and another lump of money will be raised again this year by those taking part. The effort comes no less from the heart and the fact that involves fun should not lessen the sentiment behind it.
More impressive, at least in terms of the personal effort made by most of its participants, is the latest bike ride being made by 23 stalwarts raising cash for the venerable Hope House Children's Hospices, organised through GM Fundraising. These people, 17 or so riders and their support team, are cycling between Canada and Mexico, covering more than 2,000 miles in the process. More to the point is that it involves over 92,000 feet of going up mountains. Having done a bit of charity biking I am full of admiration and cannot help but wonder if some of the funds should go to potential major medical assistance in the saddle-contact department, if you know what I mean.
Give and give again to this great cause: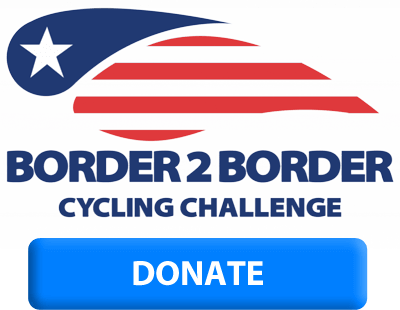 In the meantime, see you at The FIT Show!