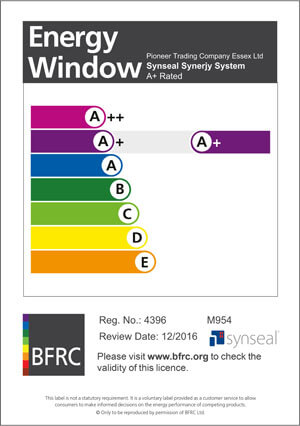 The British Fenestration Rating Council (BFRC) energy performance label can help you determine how well a product will perform the functions of:
Helping you contain and conserve heat within your building in the winter
Keeping the room cool in summer
Keep out the wind and resist condensation
The A++ to E rating system provides a powerful means of promoting energy-efficient windows to the consumer and should help the government give incentives to promote their uptake.
Pioneer Energy Rating Certificates
Pioneer issue Energy Rating Certificates per job for your customers to keep and place in their Home information packs.
Energy Rated Windows The Facts
Approx 25-30% of a houses heat is lost through the windows
An 'A' Rated Window has a '0' ZERO! Energy loss
Hence and 'A' Rated window could save your customer 25 - 30% off their heating bills
Therefore if a customer pays £1000 per year on fuel bills they could save as much as 250-£300 per year!
A 'B' Rated still performs very efficiently saving up to 20-25% off heating bills
Our energy rated windows perform around 80% more efficiently than the standard double glazed window
Over a period of 10 years it would be fair to assume our windows would repay their cost over and above the benefits of low maintenance and sound insulation
Green Issues..
We recycle all our waste Plastic, Metal, Paper, Laser Toners, Ink Cartridges.  We have recently installed energy-saving lights for our offices which switch off automatically when the office(s) are not used.
Pioneer Trading Company Essex Ltd believes it has an important moral and legal duty to ensure good environmental performance in all its business operations and provide the necessary organisation, commitment and training to fulfil this obligation. The senior management firmly believes in, and is committed to monitoring and improving environmental performance, pollution prevention and environmental protection.
Click on the link below to view our Environmental Policy
---
Get on the phone to us now for a competitive quote - just call 01245 362236 or if you prefer you can use our Web Enquiry Form and we will answer any enquiries that you may have.