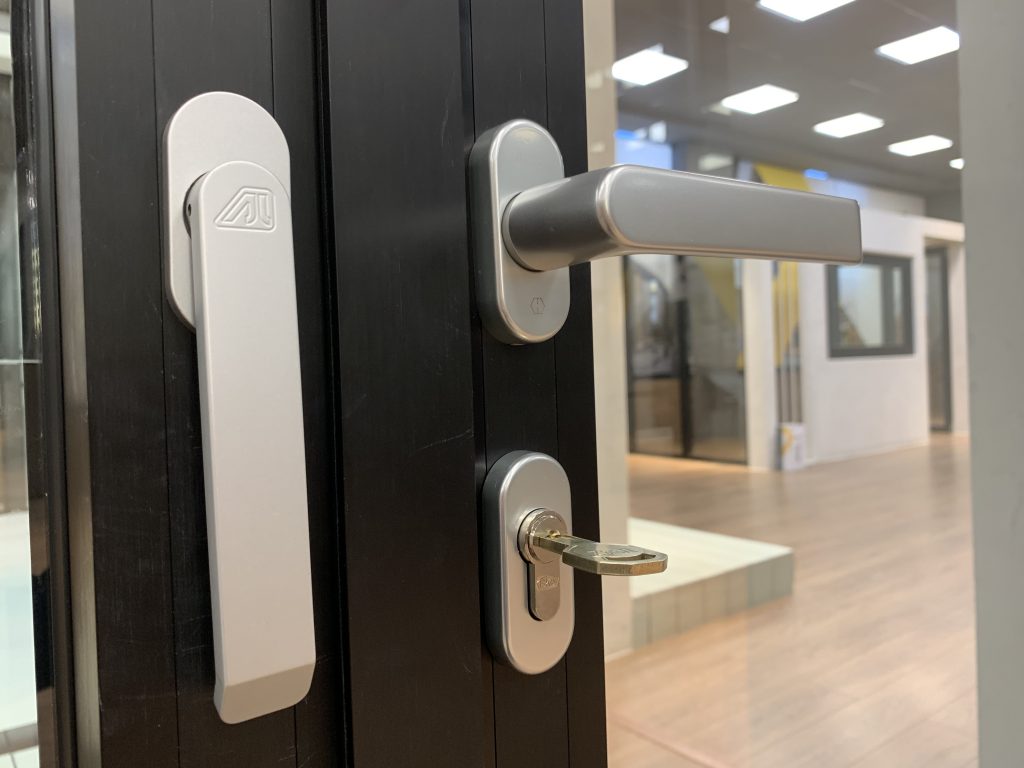 All our quality-made windows and doors, in PVCu, aluminium or timber come with the very latest hardware, furniture and components.
Whether you need windows for residential property, high traffic commercial buildings or for general refurbishment work, our windows and doors come with durable hardware for joint strength, security and sealing. Importantly the hardware in our windows and doors comes designed for reliable everyday use as well as ensuring functionality at all times.
Information about Residential and Commercial Door Hardware.
Our PVCu and aluminium door sets come with the hardware designed by the systems company to suit the product. These include locks and keeps, door hinges and accessories such as limit stays or restrictors. There are also other enhancements such as door locks, hinges and accessories designed for Secured by Design, PAS24 or Document Q Certification.
Commercial doors come with all manner of different hardware to meet many different functions, such as fire exit or access control. These also come with a big range of door handles such as plain push-pull, architectural door handles or those for disabled and individual use.
Window locks and general hardware.
Our residential window range comes with top-brand window locks such as Yale, with multi-point locks and keeps, operated by durable espagnolette handles. These not only keep the windows secure but also ensure effective compression against gaskets or weatherstrips.
For general window operation, we use the best brands of friction hinges with or without a fire-egress facility and with options for window restriction where required. Our commercial window hardware comes ready for individual building specifications such as permanent restriction, Teleflex operation or even anti-ligature furniture.
Our Heritage range of windows offers further options such as teardrop, monkey tail and other period handles and peg-stays. Our sliding sash windows come with traditional or modern sash locks and a choice of sliding sash balances.
Low thresholds and general accessibility.
As an expert manufacturer of latest-generation windows and doors, we also provide a full range of options for usability and enhanced functionality. All our range of front doors, residential doors, sliding and bifolding doors come with options for low threshold whether as part of the system or integrated into the installation.
Commercial doors come with options for automatic sliding or swing operation and with other enhancements to meet BS8300, Approved Document M or the Equality Act.
Our window and door hardware also enable our products to meet the necessary British and European standards for general performance, operation or quality of materials.