Choose our Deceuninck Traditional range for chamfered and decorative quality PVCu doors, combining the latest engineering, high performance and value. Designed for the UK market, our Traditional 2500 range of doors is ideal as replacement doors or for your new build projects.
Deceuninck Traditional 2500 Doors
Our modern door products come to you in the latest secure, attractive and energy efficient profiles. We provide made to order doors letting you choose from a big range of colours, glazing options and door furniture. PVCu doors offer you a valuable addition to your product offering, available at very competitive prices, reliable delivery and impressive lead times.
Choose from single or double doors opening in or out. Also available is a range of mullion and transom sections, letting you customise your doors to meet your client requirements. Fully glaze your doors or combine with coloured panels, pet flaps and other options.
CE Marked for quality and tested to the latest security and performance standards, your clients benefit from outstanding residential doors for their homes.
Reasons why…..
The Traditional 2500 is an up to date PVCu door with the best in security, reliability and weather proofing. Maintenance free doors in many different styles and colours.
Equal sight lines around the doors give your customers an altogether better looking PVCu product compared to the competition. Stylish, elegant and with a cleaner overall appearance. Even better the grey gasket we use, softening the window appearance for an all round attractive new window. A consistent sight line all around gives your customer symmetrical looking doors with sashes also having the optimum frame coverage for security and weather protection.
Multi-functional weather seals not only create a very weather resistant door, but also one of the neatest looking. Low line gaskets are less visible than other windows as well as being welded at the corners for better window insulation.
Multiple profile chambers with reinforcement where needs help reduce energy bills combined with high specification glass.
Benefits for the installer.
Use one quality window system for both modern houses, new extensions or general window replacements in houses of any age. A fully integrated system making it easier for large or small projects and with a wide range of colour options.
We make your doors better so you fit them better. Using tighter tolerances, our windows offer a simple and consistent installation. The door beads come with a single leg, therefore being flexible, never too loose or too tight. You and your installers get easier to glaze doors every time.
Quality made products meaning less site adjustment for door sashes on site. Cills, and accessories cut to size or to your specific requirements.
We make completing your installation better thanks to high quality and easy-peel protective tape. Easy to remove, easy to clean and no unsightly residue.
Quality made, supply only PVCu residential doors.
Our hi-tech manufacturing facility provides you with the best made doors for your projects. We have many different colours in stock including the latest woodgrains, Chartwell Green, Woodgrains and contemporary grey. Every one of our windows comes with a 10 year manufacturers guarantee.
Get in touch with us at Pioneer Trading today for a fast quotation and benefit from quality products and first-class customer service.







Our Traditional 2500 window and door range is a firm favourite with their smooth and stylish appearance, they are proven to stand the test of time.
Energy Performance
With energy prices soaring, you need to be able to offer a window and door system that insulates your customers home, helping to reduce fuel bills and cut carbon emissions. Our Traditional 2500 profile is the perfect choice, being able to achieve an A+ rating when double glazed, and an A++ rating when triple glazed. [insert 2500 profile corss section with certificate]
Weather Performance
The Traditional 2500 multi-function weatherseal is at the cutting edge of modern design and material technology. The unique design ensures unrivalled weather performance and provides a significant reduction in the everyday strain placed on hardware, which in turn increases the lifespan of the window. The weatherseal is also welded at the corners providing a continuous seal further improving the insulating properties of the product.
Top Hung Casement
Side Hung Casement
Size Tested
1.2m x 1.5m
0.9m x 1.4m
Air Permeability
Class
A4
A4
Rating
600 Pa
600 Pa
Water Tightness
Class
9A
9A
Rating
E1050 Pa
E1050 Pa
Wind Resistance
Class
A5
A5
Rating
2000 Pa
2000 Pa
Insulation
The Traditional 2500 window and door system far exceeds all requirements of not only today's Building Regulations but also future revisions.
Security
The Traditional 2500 window and door system is fully compatible with all standard security hardware, with both windows and doors achieving enhanced security standard PAS 24.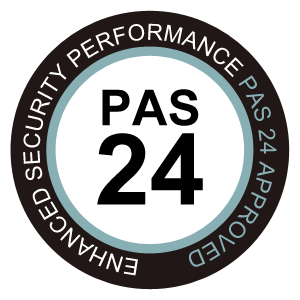 Appearance
Our designs are flexible, versatile and created to suit contemporary homes and period properties alike. Good window design extends to the symmetry of window sightlines. Equal sightlines add balance and harmony, giving a cleaner view from the outside in, and from the inside looking out. It means our windows look less cluttered and more symmetrical.
Quality
All our products undergo rigorous tests to ensure they are of the highest quality, durability and reliability. So your windows and doors will stay beautiful for longer, with very little maintenance. They are also all recyclable
Colourways

A unique range of foil colours in 18 colourways from stock, complete with matching ancillaries, trims and accessories.
Beautiful authentic 'wood like' finish
Extremely durable
10 year manufacturer's guarantee